Hi everyone! Lee T. here with a list of new releases.
This is by no means a complete and irrefutable list of what is coming out this month, nor is it intended to be.  It's just to give TRO readers an idea of where to begin their hunt.
This is my first column for TRO, so, if anyone has any suggestions or comments please feel free to leave them, (column is too long, too short, someone who knows what they're talking about should write it, etc).
Please keep in mind release dates are subject to change and you should always check with your retailer of choice before demanding your copy.  Also, all titles are paperback unless otherwise noted and the suggested retail price is just that: suggested.
Without further ado and absolutely no fanfare we begin!
MARVEL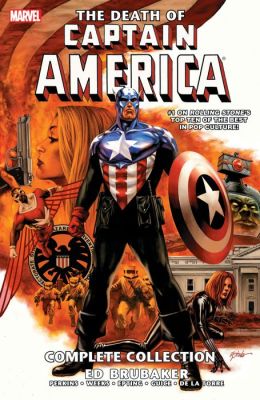 CAPTAIN AMERICA – THE DEATH OF CAPTAIN AMERICA: THE COMPLETE COLLECTION
In a month that is filled (and I mean right to the brim) with collected editions from Marvel this is by far one of the coolest.  Who doesn't love watching our heroes die?  And this was one spectacular way to go.  I love anything with complete, ultimate, omnibus or library in the title and to get the death of Cap all rolled in to one fantastic little package is pretty great.
SRP: 39.99
Contains:Â  Captain America (2005)Â  #22-42, Winter Soldier: Winter Kills
Chapters, Amazon – Feb. 19th
Things From Another World, My Comic Shop – Feb. 6th
MARVEL NOIR: WOLVERINE AND THE X-MEN
These sorts of things can either be fun and mildly diverting entertainment shedding new light on old aspects or they can be terrible and make you feel deep despair like you've never known.  I enjoyed the Noir take on Spider-Man and I feel like some of the X-Men characters could be adapted quite well to an urban 30's and 40's setting.
SRP:Â  34.99
Contains: X-Men Noir #1-4, Wolverine Noir #1-4, X-Men Noir: Mark Of Cain #1-4 and Weapon X Noir #1.
Chapters, Amazon – March 12th
Things From Another World, My Comic Shop – Feb. 27th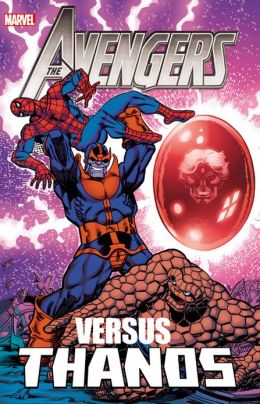 AVENGERS VS. THANOS
Well, it's no shock that this came out, but, it does seem a little premature and probably would have been better timed to coincide with the release of either the Guardians Of The Galaxy movie or The Avengers 2.  Unlike most of these "released to capitalize off a movie" trades, this one is supposed to tell the life story of Thanos through his various appearances and battles, which is a cool idea.  Hopefully it actually does it.
SRP: 34.99
Contains: Over 450 pages of various comics mostly from the late 60's and early 70's
Amazon, Chapters – March 5th
Things From Another World, My Comic Shop – Feb. 20th
AVENGING SPIDER-MAN: THE GOOD, THE GREEN AND THE UGLY
Essentially this looks like a book of team-ups featuring Spider-Man with help from She-Hulk, Captain Marvel (apparently the new one) and Deadpool…..ya, Deadpool.  Weird, but, if you can handle the insane amount of one-liners and bad jokes that would be spewing forth between the two of them then it could be an entertaining couple of issues.
SRP: 16.99
Contains: Avenging Spider-Man (2011) 7, 9-10, 12-13
Chapters, Amazon – March 5
Things From Another World, My Comic Shop – Feb. 20
DC
BATMAN: THE NIGHT OF THE OWLS (HC)
The follow up to The Court Of Owls promises to be an epic done in the style of the great Bat Sagas, (No Man's Land; Knightfall; Bruce Wayne – Fugitive).  The issues collected here feature Red Robin, Batwing, Batgirl, the Birds of Prey, Nightwing, Catwoman (and the list goes on) with all of their respective stories coming together as a whole.  Can't wait.  
SRP: 29.99
Contains: One or two issues from all the major and secondary Bat Books totalling 360 pages of awesome
Chapters, Amazon – Feb. 19
Things From Another World, My Comic Shop – Feb. 13
GREEN ARROW: SALVATION
I like DC's events in all their twisting, convoluted glory and this newest volume of Star City's emerald defender is a tie-in to Brightest Day.  There really isn't much more that needs to be said about it.  If you liked Brightest Day you'll want to add this to the collection.  Ditto if you just like Oliver Queen.  Either way 200 pages for 17 bucks is a pretty solid deal.
SRP: 16.99
Contains: Green Arrow (2010) 8-15
Chapters, Amazon – Feb. 19
Things From Another World, My Comic Shop – Feb. 13
THE NEW DEADWARDIANS
Published through their Vertigo line for older readers this book just looks plain odd.  A kind of combination of League of Extraordinary Gentlemen and those Seth-Graeme Smith books that have been so popular of late, this book is about a detective solving murders in post-Victorian England.  The catch is that the lower class have all become zombies and the upper class have voluntarily become vampires to separate themselves.  Weird?  Yes.  Intriguing?  A resounding yes.
SRP: 14.99
Contains: All 8 issues of the mini-series by Dan Abnett
Chapters, Amazon – Feb. 12
Things From Another World, My Comic Shop – Feb. 6
VOODOO VOL. 2: THE KILLER IN ME
I've gotta say, in the spirit of honesty, I'm not very up to date on my New 52.  It's not because I don't want to be, I just don't have the money to be keeping up on all these books.  One day in the distant future I will have them all and I will revel in their glory, but, until that day I'll have to live vicariously through you guys.  I know Voodoo is an old character being brought back and I know she is ambiguous in that she isn't sure whether she's a villain or a hero and I love that kind of tension.  Will she or won't she?  This will definitely be a book I check out at some point.
SRP: 14.99
Contains: Voodoo 7-12, 0
Chapters, Amazon – Feb. 26
Things From Another World, My Comic Shop – Feb. 20
INDIES
G.I. JOE: THE IDW COLLECTION VOL. 1 (HC)
Originally slated to come out at the end of next month this 350 page hardcover has been pushed back until sometime this month.  Hopefully it actually comes out as it's supposed to feature writing by Chuck Dixon and that's always a good thing.  Make note that this has all ready been delayed once and may be delayed again so the dates that follow are just an estimate.
Publisher: IDW Â Â 
SRP: 49.99
Contains: 352 pages of GI Joe action starting with Origins and, presumably, moving forward.
Chapters, Amazon – Feb. 26
Things From Another World, My Comic Shop – Feb. 13
AVATAR THE LAST AIRBENDER: THE PROMISE – LIBRARY EDITION (HC)
Written by the show's creators and Gene Luen Yang this story picks up directly after the series finale.  Apparently the peace that we saw at the close of Avatar is tenous and Fire Lord Zuko is at odds with Earth King Kuei.  I'm sure it will be up to Aang, Kitara and Soka to stop them and since they're friends with Zuko now I doubt it will be very cut and dry.  Normally this kind of thing wouldn't interest me, but, with the show's creators at the helm it's a perfect opportunity for those of us who miss the show to get something new while we wait for Legend Of Korra to start up again.
Publisher: Dark Horse
SRP: 39.99
Contains: The first 3 graphic novels put out by Dark Horse
Chapters, Amazon – March 5th
Things From Another World, My Comic Shop – Feb. 20
SUPER DINOSAUR VOL. 3
A T-Rex who plays video games and the 10 year old boy who loves him… ok?  Oh, and they fight bad guys and stop evil plans and stuff… double ok?  If it didn't have Robert Kirkman's name attached for writing duties a lot of people probably wouldn't have bothered with this, but, it is Kirkman and he has a fairly strong track record.  This and the Astounding Wolf-Man are definitely on my pull list if even just to read something different and odd, emphasis on odd.  Side note: this may be delayed as well since My Comic Shop doesn't have it listed and issue 17 is supposed to drop the same day as the trade.  Huh.  That's a new one.
Publisher: Image Comics
SRP: 12.99
Contains: Super Dinosaur 12-17
Chapters, Amazon – Mar. 5
Things From Another World – Feb. 20
MARS ATTACKS VOL. 1: ATTACK FROM SPACE
Apparently this is an all-new take on the Mars Attacks universe that promises to be just as gonzo as the original if not more so.  Having John Layman of Chew fame at the helm should help ensure that it stays weird and bloody.  The art looks to be solid and while this book probably won't change the landscape of comics forever I have a feeling it will be pretty entertaining.  You know, if you're in to that sort of thing.
Publisher: IDW
SRP: 19.99
Contains: Probably the first 5 or 6 issues (can't get a definitive list, sorry)
Chapters, Amazon – Feb. 26
Things From Another World, My Comic Shop – Feb. 13
That's it!
Hopefully you're excited about some of these books. What are you looking forward to the most?