Hey, folks! Your friendly editor here. I've returned from some unfortunately timed business in a far-away land, and will now resume business as usual. But first, a couple notes on my "In Blackest Night" article from earlier this month:
Firstly, as faithful reader Anton points out, I had omitted an important project to the history of leading Black heroes in the DC Universe: Grant Morrison's 2005 maxiseries Seven Soldiers, a relaunch of the classic Seven Soldiers of Victory super-team which focused on D-list, unlikely heroes from the annals of DC history taking the center stage.
Each of the seven members would be given their own miniseries, including two leading Black men. First was Jake Jordan, better known as the Manhattan Guardian, a legacy hero to Jack Kirby's Guardian — an attempted cash-in on the popularity of Captain America and the less popular of Metropolis's champions. Jake Jordan, though he dressed similarly to his forbear Jim Harper, had little in common and redefined the costume to fit his own identity: one which, after Seven Soldiers had ended, would only be briefly revisited in cameo roles during Infinite Crisis and 52, and never again. Still, one might argue that Jones' role as Guardian was the inspiration for teenage vigilante Mal Duncan to don the  Guardian's costume once more in the current Young Justice animated series: and in that sense, his legacy lives on.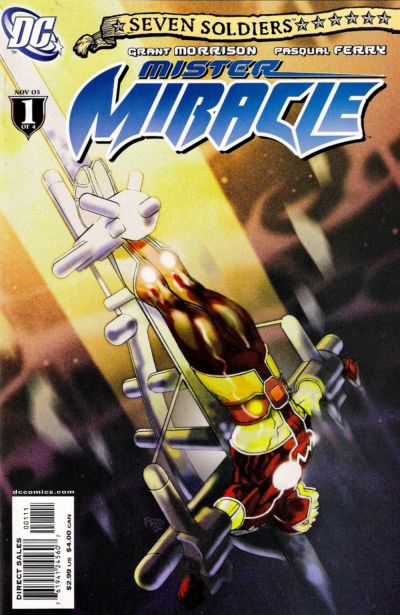 Second of Morrison's two leading Black men was Mister Miracle: no, not Darkseid's adopted son and husband to Big Barda. This one is yet another legacy hero by the name of Shilo Norman — in fact, he originates as a supporting character in the more far more famous Scott Free's own Mister Mircale title in 1973. Scott, an escapee from Apokolips, and Shilo, a very human boy abandoned by his mother as an infant, both inherited the title from their shared mentor, escapologist and the original Mister Miracle, Thaddeus Brown. Shilo goes on to become a central figure in the "Joker's Last Laugh" 2001 story line, and finally climbing up onto the marquee in Morrison's 2005 series, which sees him sacrifice his life only to pull the greatest escape of all: from that of his own grave. Shilo remains a significant character within the DC Universe up until 2010's Brightest Day series, but has not been heard from since The New 52 relaunch.
Oh man, that takes me right to my next point. Speaking of The New 52: when we last spoke, DC had only two of its original five series with leading Black characters still ongoing: since then, we have received news of The Fury of Firestorm: The Nuclear Man's impending cancellation. This means that Batwing is the publishing company's only title left in this regard. This Black History Month will soon come to a close, and you can make far worse purchases at your local comic shop than the first volume of Batwing. Everyone deserves identifiable role models – help keep diversity in comics alive!
This month is winding down, isn't it? That means you've only got 3 more days to enter our very first giveaway under the new administration here at TRO, Justice League International Vol. 1: A New Beginning. Get to the comments section and start writing!
As for us, expect a full report on what we've been doing with the database this week, as well as two new reviews: one from the talented and outspoken Ian Perez, and one from new friend "Ghastly" Gilbert Smith. Don't miss out!