This review contains light spoilers. Skip To The Verdict? »
Any Superman fan (or even casual comic book fan) already knows the story of Superman's origin. A baby sent from Krypton destined to protect the Earth after the loss of his home world. With his incredible abilities, faster than a speeding bullet, he stands for truth, justice, and all that wonderful jazz. The Man of Steel.
However, this is Superman: Earth One and while all those elements are here, this is a new interpretation of his roots.
Written by J. Michael Straczynski (Rising Stars, The Amazing Spider-Man) and brought to life on the page with the truly wonderful art of Shane Davis (Justice League of America: The Lightning Saga, Superman/Batman: The Search for Kryptonite), Superman: Earth One is meant to ring in a new era of DC continuity as the beginning of the Earth One series. And with Davis' art, man, what a beginning!
Before I get to far into the book, I want to explain my very large urge to write a review for this book, my first review for this site. When the book was nearing release, the cover began appearing in the news all over the internet with articles headlined with two words that just don't belong: "Superman" and "Twilight."
I'm not here to bash Twilight, but it was rather upsetting to see a great icon being trashed for cover art that supposedly implied Superman was becoming an "emo hipster." What bothered me the most was that no one talked about the content of the book – they were literally judging a book by its cover. So now I'd like to try to counter those headlines.
Straczynski makes it pretty clear from the beginning, in the dedication, who he made this book for. It's meant to go out to every fan of Superman. Every person who's ever loved the character at any point in any way. Now he brings a new story, a new playing field, for those fans to fall in love with Superman once again.
And so it begins with a more modern setting that sees a Clark Kent in his early twenties journey to Metropolis for the first time. Without revealing too much, I gotta say I loved the first page with the simple art of Clark boarding a train, accompanied by an overlaid conversation with Martha Kent. Clark explains that he's not flying because he needs the time to think and prepare himself for a real big step into a new world.
The story flows as Clark spends his first days in Metropolis job hunting and setting up a place to live. In the job hunt, besides the must-stop that is the Daily Planet, Clark also tries out for football and to be a scientist. Ultimately, Clark shows that with his abilities, he could have any job he wants and make a lot of money doing it. Better than that, he'll be able to take care of Martha as he promised. He can do something he yearns for so badly: fit in with everyone else.
Straczynski clearly wanted to tell a particular story of a Clark Kent who was an outsider with infinite potential. Clark could have gone anywhere and been anything he wanted to.
It's not that Clark's values aren't the loving ones we've become accustomed to – him learning from the Kents – but more that this Clark wants to become something other than just a loner. He's never known who he was, he's had no sign other than knowing he's an alien and that he has powers. This is a Clark who is lost in the simplest question of wondering why he's here, in this particular modern here.
Will this premise of the story work for everyone? No.
Will there be disagreements on the way the character is handled here? Of course.
But as the book progresses, it shows more and more of how this is just another form of the Man of Steel, not a total derailing of the icon. We see some truly wonderful moments between Clark and Jonathan, often as reflections on the past.
While Clark struggles with the idea of putting himself into the limelight as Superman and bearing the weight of his civilian life becoming his mask, a new villain to Superman mythos attacks the Earth.
The villain stems from the new origin related to the destruction of Krypton. As he attacks, the lives of many, including Lois Lane and Jimmy Olsen, are put in danger and Clark must rise to the occasion. Through a nicely constructed pattern of events from Krypton to the present, where Clark faces his destiny, it becomes very clear why Clark chooses to be Superman.
One of the best parts of it all is Clark's reflection on Jonathan's words to him. I don't want to give too much away, but let's just say that when Clark makes his debut as Superman, it's a truly gloriously handled moment both in the writing and most certainly in the art.
By the end of the book, we see Clark becoming the Daily Planet reporter we know him to be and accepting the destiny of being Superman. When looked at from the right perspective, this book is a love letter to Superman fans. It's a fresh look that reminds you of some of the best elements of the character at the core. The story is well formulated to bring every facet of Clark's love for Jonathan, his Kryptonian history, his move to Metropolis and introduction to Lois Lane all up to speed with his arrival on the scene as Superman.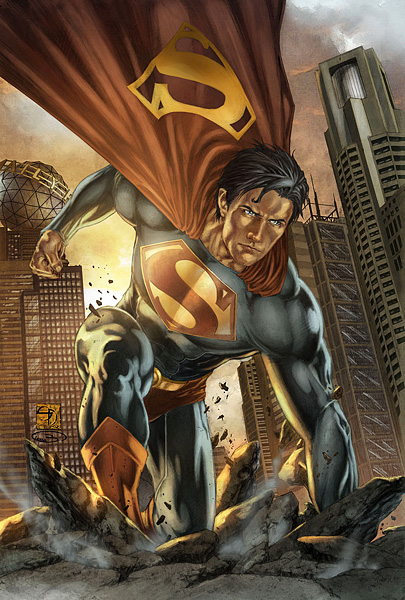 Davis pulls out all the stops in making the art more than easy on the eyes. There are some frames that you just want turned into posters because they look so darn good.
And above that, the feel really comes across for Clark and his world. Even if you're just so-so about the story, the art is top-notch.
Straczynski, in my opinion, succeeds in his goal of telling the story about why Clark becomes Superman. From the standpoint of a character-driven story, it brings  texture to Clark that makes him both man and Superman at the same time.
A really cool feature that they add in is at the end of the book, with a printing of the Daily Planet's interview with Superman. It's just a great read and brings even more depth to the journey of this Clark.
All in all, I went in with medium expectations. I love Superman and am also a huge fan of the Ultimate Marvel line, so hearing about this Earth One business was quite a stir of excitement for me.
But I was worried about how the book would turn out, even though I already had read and enjoyed some of Straczynski's other work.
In the end, though there were the minor moments where I could agree with some that it didn't quite hit the right feel of a Superman story, they were few and far between. When they weren't there, I was thoroughly enjoying this new interpretation of the Blue Boy Scout.
I would recommend it highly to anyone looking for a new Superman story, wanting to start from the beginning, or just wanting to read a good story with some amazing art to it.
Hopefully, Superman: Earth One is just the start of a new Superman story that can continue to capture the soul of the character for both old and new audiences.
Verdict:
4 1/2 out of 5 stars. The art is seriously stunning and the story really reflects on Clark and Superman as character which a veteran fan can appreciate, but hopefully can grasp to new minds as well.
Essential Continuity:
You can start out totally fresh here as this is a new continuity for DC.
Read first:
It's always good to have some Superman under your belt to get some of the homage to the original, but truthfully you can walk in to this for the first time, though I'm sure it's less appreciated that way.
Read next:
Hopefully another volume to be released in this series down the way. If not, there's always Batman: Earth One coming up.
If you're looking for the current in continuity origin story of Superman, check out Secret Origin. Or just work your way down the recommended Superman reading order.